First off: What is a Car-Seal program and what does it do? 
A Car-Seal program is designed, implemented and managed to ensure that safety-critical valves within the covered process are maintained in their safety-critical position / setting during normal system operation. If the position / setting of a safety-critical valve is to be changed, it provides a procedure that functions as an administrative control to make this change safely.
Car-Sealing a valve OPEN or CLOSED is used ONLY if opening or closing that valve during normal operation could result in a Severe Safety Incident. Car-Sealed valves are usually designated on the P&ID's as Car-Sealed OPEN (CSO) and Car-Sealed CLOSED (CSC), and are physically identified as Car-Sealed in its designated position / setting.
In order to more readily identify the location of the intended Car-Seals in the field, as well as the NORMALLY SAFE valve position / setting, the tags will be secured to the valve using COLOR CODED PLASTIC TIE STRAPS.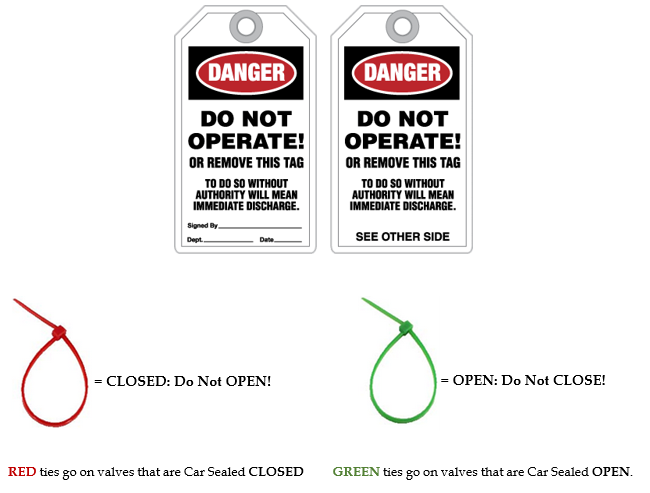 To put it bluntly: Car-Seals are placed on valves where REALLY bad things can happen if you move them from their normal (Safety Critical) position without taking precautions!
Where are they used in Industrial Ammonia Refrigeration Systems? 
You should already have at least two Administrative Controls (safeguards) meant to minimize the hazard of opening and closing the wrong valves: Written SOPs and Trained Operators. The Car-Seal program is meant to add a third layer of protection on top of those two when changing the position of the valve could reasonably result in a Severe Safety Incident.
Severe Safety Incident – shall mean any incident which could result in any one or more of the following results:
An OSHA Recordable accident, fatality, one or more employees/contractors hospitalized
Any fire requiring the use of more than one (1) portable extinguisher or one wheeled unit to completely extinguish
Any environmental incident involving a regulated material which violates any of our permits or requires disposal of a hazardous waste
Any incident which activates or disables a pressure safety device.
Any event which had the clear potential for sudden loss of human life, either within the plant or beyond the fence line, which would result directly from a chemical release, fire or other safety-related incident
Any event which required an offsite notification of any type agency (fire, LEPC, EPA, OSHA, County Officials, City Officials)
Any event in which the site alarm system activates or is disabled (excluding false alarms and tests)
While the decision as to which situations could reasonably result in a Severe Safety Incident are best left to the PHA team, the following are common situations where they have been used:
On the CD Isolation Valve of a Condenser Coil
On the Inlet or Outlet Isolation Valve of a Thermosyphon Heat Exchanger
On any liquid cooling Heat Exchanger without a relief device*
Where a shutoff valve is placed before or after a relief device*
At Isolation Valves for dead-end or Future Expansion legs.
* A relief device in this case means a device to relieve excess pressure. While relief valves are common solutions, other examples include checkvalves, pressure-relieving regulators, EPCS solenoids, etc.